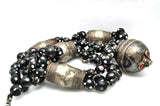 This is a jaw-dropper. Incredible antique black skunk beads (that sell for hundreds a strand on their own) festoon silver barrel beads from India. It feels ancient and modern at once and will look phenomenal with a black turtleneck.
Material: Sterling silver, brass, glass
Measurements: 24" long. about 2.5"wide, 3" drop.
Age: Elements C. 1900, more recent stringing.