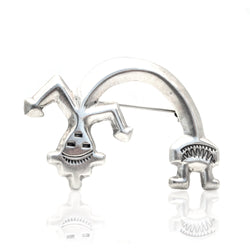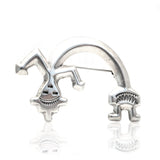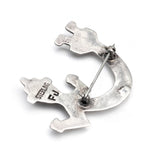 The Rainbow Man is a Yei symbol for Harmony and restoration of the earth. A Cree prophecy states "One day... there would come a time, when the earth being ravaged and polluted, the forests being destroyed, the birds would fall from the air, the waters would be blackened, the fish being poisoned in the streams, and the trees would no longer be, mankind as we would know it would all but cease to exist  "
This is a beautifully sandcast brooch in hefty sterling. It would make a great hat pin, or adornment for your Levi jacket!
Material: Sterling silver
Measurements: 2" x 1.25"
Age: C. 1960