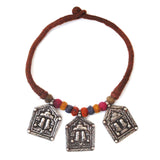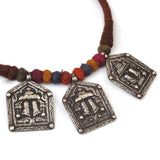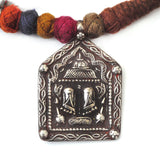 Lord Rama's Sandals Necklace
This is a wonderful necklace bearing three medallions, each the sandals of Lord Rama. They are a symbol of selflessness and quiet power. Whatever your spiritual; tradition, it is nice to have a daily reminder of being firmly grounded. 
The pendants are knotted on a fiber collar of cotton & wool (I believe) which is just ridged enough to present the pendants beautifully. 
Material: Sterling silver, cotton & wool
Measurements: 17" L, each pensent is 2" x 1.75"
Age: C. 1940