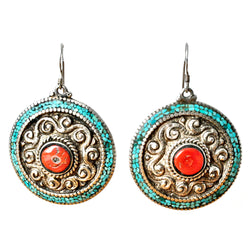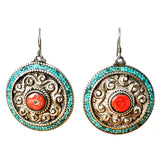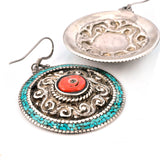 Himalayan Mosaic Earrings
What is not to love about these Tibetan earrings? They are big, light, colorful, and showcase craftsmanship. At their core, they are a big chunk of old Mediterranian coral, ringed by sterling repossee with a wind design and encircled in tiny micro-mosaic. Absolute heaven! The pendants are antique while the ear hooks are newer.
Material: Turquoise, coral, sterling silver
Measurements: 2.25" x 1.25"

Age: C. 1920, contemporary ear hooks