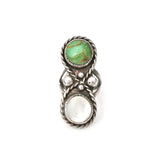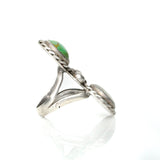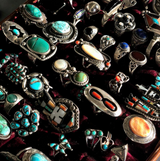 Gemini Turquoise Mother of Pearl Ring - 5.75
A great statement ring that sits smooth and long on the finger. The two stones complement each other nicely. The turquoise has excellent patina and the mother of pearl if beautifully opalescent, and worn-well over the years. 
Material: Green turquoise, mother of pearl, sterling silver. Marked with a G.
Measurements: Size 5.75, face is 1.6" x .6"
Age: C. 1950