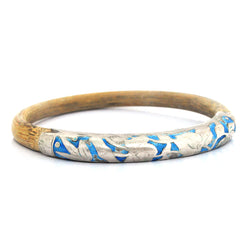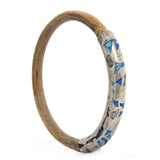 Bamboo & Enamel Chinese Bangle
This is a beautiful late 19th-century bangle from China. It showcases pliable natural bamboo set with a sterling silver band, enameled with a cobalt floral pattern. Most remarkable is the intense wearer on one side of the silver, it was clearly stacked next to another bracelet for years and years leaving a relic of the past visible for us to see,
Material: Bamboo wood, enamel, sterling silver
Measurements: 2.5" internal Dia.
Age: C. 1890