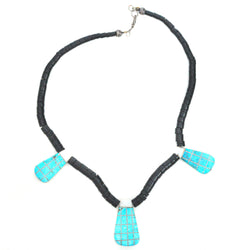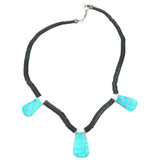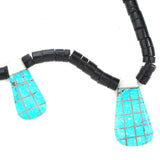 Santo Domingo Tab Necklace
Santo Doming jewelry is special because it exhibits a kind of wonderful American ingenuity. Made during the depression, classical jewelry materials were scarce and so the jewelry makers of the Santo Domingo Pueblo tribe used that they had, including car battery parts, plastic utensils and ground turquoise dust to make beautiful and traditional examples of their cultural jewelry.
Material: Turquoise, shell, sterling silver
Measurements: 20" interior circumference. 
Age: c.1930