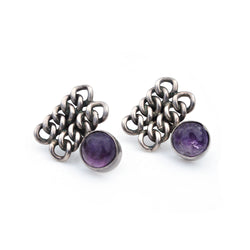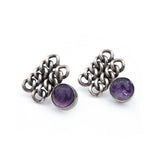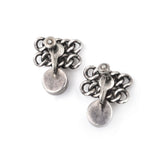 Parra Taxco Amethyst Earrings
This is a rare pair of Horacio de la Parra earrings, part of a full set being offered.  The curb chain and ball design is one of my favorite Mexican styles, and this is the first time I have seen it with stones. The chain is handmade, and supple with bright clear amethysts. These are screwback earrings but could be converted to posts. They could also be used if you wanted to elongate either the necklace or bracelet I am also offering. 
Material: Amethyst, sterling silver
Measurements: 1:" x .75"
Age: C. 1950