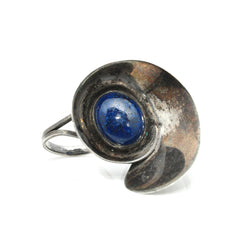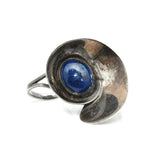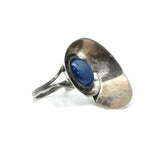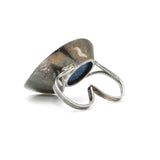 Modernist Double Finger Ring
This is a unique, artist-made double-finger ring. The whirling design is reminiscent of a jetty, with a deep ocean blue sodalite cabochon at the center. Hand crafted with great imagination and skill. The two rings at the back are not linked in the center so it fits comfortably. The small finger should be at least a 6, the larger finger could be up to a 9.
Material: Turquoise, sterling silver
Measurements:  Size is adjustable, fitting fingers 6-9  Face 1.5"x 1.5"1.5" x .4"
Age: C. 1970