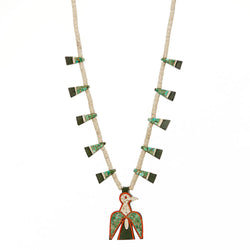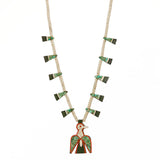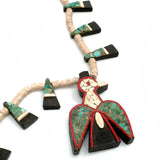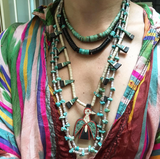 Santo Domingo Thunderbird Necklace
Santo Domingo thunderbird necklace with gypsum, turquoise, and battery beads. During the Depression the Santo Domingo Indians showed ingenuity during hardship by creating these pieces by collecting plastic utensils, batteries, gypsum, and turquoise chips. They would melt down batteries to create the backings and adorn them with found materials. These necklaces were made during a very short period of time by a small community of Indians.
Material: gypsum, turquoise, battery
Measurements: 14" L x 1.5" W x 0.5" H 24" interior circumference. 
Age: 1930s